QUALITY
| | |
| --- | --- |
| | The Ospitalità Italiana Seal 2009 |
Casa Flora
| | |
| --- | --- |
| | |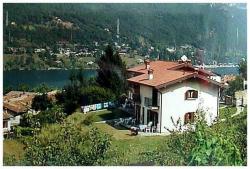 Crone is very old village on the east shore of the Idro lake. Formerly it was very fishy; the Idro lake was abounding in fish. In the fishing world, the Idro lake is still very well-known. More foreigners than Italians came to the Idro lake, but, the former peace is still there. The Flora house is built above Crone and offers a lovely view over the old village that lies beneath the house. The Idro lake is surrounded by 1500 meters high mountains.
The Idro lake has a stony beach like all mountain-lakes. The recently renewed promenade with children's games is the pride of the inhabitants of Idro! You can buy all sorts of things in Crone where, if you arrive by car, you can park easily. You can also visit Crone on foot and park your car in the private garage of Casa Flora.
The house has a floor area of app. 100 square meters and is equipped for 4/6 persons. On the ground floor there is a toilet with a washstand, a kitchen, a living room with a double sofa bed and satellite television. Folding doors give access to a terrace with a small garden, internet WI-FI. A staircase in the living room gives access to two bedrooms and a bathroom. One bedroom has a double bed; the second bedroom has single beds well equipped with mattresses, sheets, pillows and blankets. The bathroom has a shower, toilet, washstand and bidet. There is a washing-machine in the basement next to the garage.
Longitude: 10.48216 - Latitude: 45.73863
Hotel Alpino di Pizzoni & C. SNC
Via lungolago Vittoria, 14 - 25074 Idro (BS) - Italy Tel +39 0365 83146 | Fax +39 0365 839887 | E-mail: info@hotelalpino.net
P. Iva 00579440983 - C.f. e Reg. Imp. 00812350171 - REA BS-207814